July 28, 2017
Eleven Winery promotes Bike Works August 13th
Same Day as Bike for Pie, Come and enjoy excellent wine and live music, all while supporting Bike Works.
On Sunday, August 13th, Eleven Winery on Bainbridge Island will be donating 100% of their tasting fees and 10% of bottle purchases to Bike Works.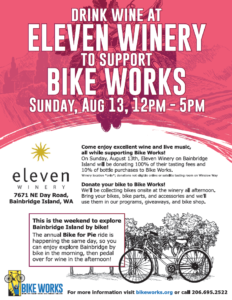 Bike Works promotes the bicycle as a vehicle for change to empower youth and build resilient communities.
More information in the July Newsletter.