June 28, 2017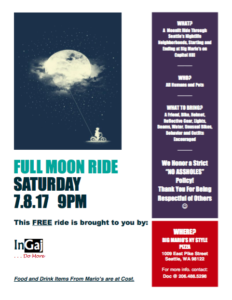 Ride the Full Moon this July 8th!
Organized by: Reginald "Doc" Wilson,  an Organizational Change Consultant and Life Enrichment Coach at InGaj, LLC.
The fine folks at Guild Seattle have agreed to allow us safe passage from, through and to Mario's on Capitol Hill for the July 8th Full Moon Ride.
Only the ride is free, food and drink cost $
The ride will be about 12-15 miles at a safe casual pace
There may or may not be a SAG. Volunteers?
Skateboards (long or short), Segways and unicycles welcome
See the Facebook Post for more information on this event.